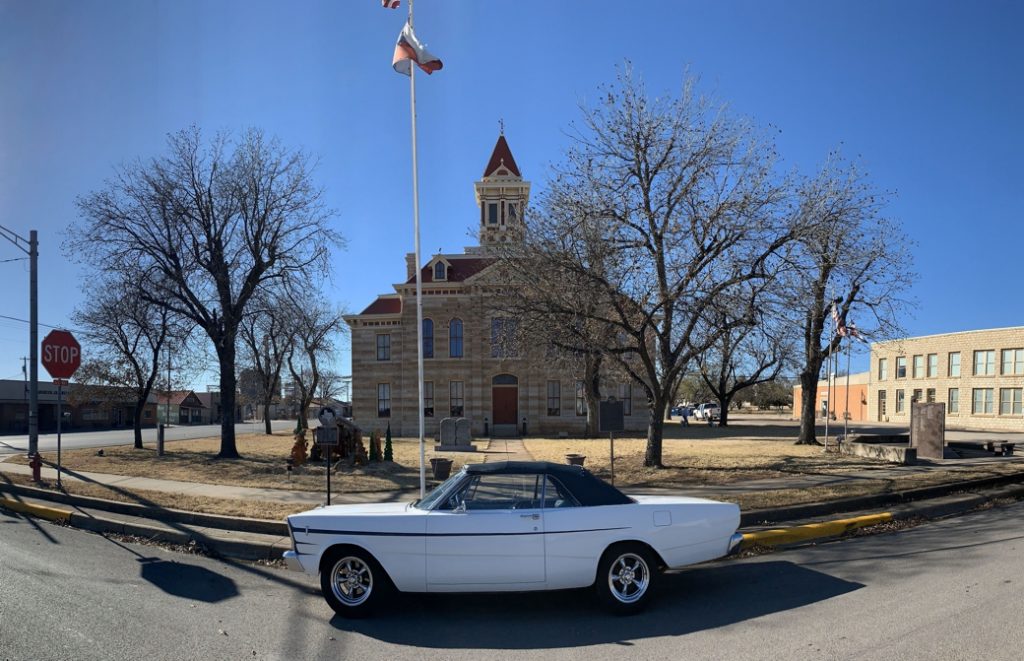 This was our fifty-third Courthouse in Texas to visit. That means we are at 20.5% of our goal with 79.5% left to go. We took note of the ten commandments on display on the front lawn. There was also a traditional nativity scene just in front of the commandments. You go Throckmorton!
The Texas legislature created Throckmorton County – named for pioneer doctor William E. Throckmorton – in 1858, with organization delayed until 1879. F.E. Conrad donated land for the town square and built a frame courthouse on this site. The firm of Martin, Byrne and Johnston designed this 1890-93 courthouse built by J.L. DeWees and Jacob Rath. The two-story Italianate-style building features polychromatic walls of quarried sandstone, quoins, pilasters, horizontal bands, arched doors and windows and a Mansard roof with brackets, pediments, and a square cupola. A matching annex was built in 1938.
The courthouse was restored with about $2.4 million provided through a grant from the Texas Historic Courthouse Preservation Program and approximately $2.8 million from the county. The courthouse was rededicated on March 12, 2015.
The county was organized in 1879, with Williamsburg, 6 miles north of Throckmorton, as the county seat. Throckmorton became the county seat in 1890.
As late as 1890 the town only had 124 residents and although it doubled in population from 1910 to 1920, it was not until the mid-1930s when it reached 1,135. The 1950 Census reported 1,319 residents which declined to 1,105 for 1970.