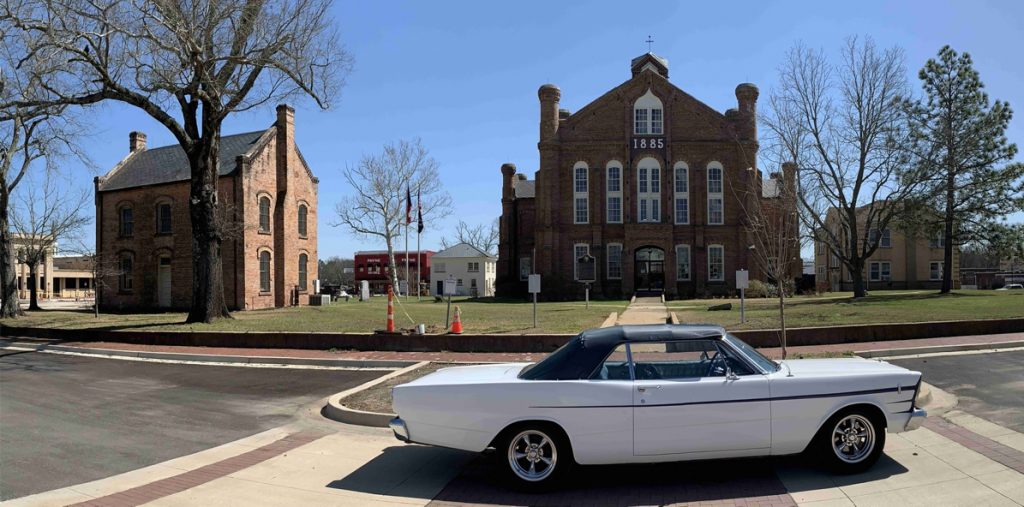 This was our sixty-sixth Courthouse in Texas to visit. That means we are at 26% of our goal with 74% left to go.
Shelby County, organized in 1837, was one of the original counties of Texas. Named for the American Revolutionary soldier Isaac Shelby of Kentucky, its county seat, Center, has been just that since 1866. The present area of Shelby County was a part of the Municipality of Tenaha when Mexico became independent of Spain in 1821.
The courthouse itself is a two-story Romanesque brick building. The two million-plus bricks were made by the architect, while the mortar was made from sand toted via oxcart from Louisiana some forty miles away.
The architect thought hard about the hot Texas summers, so he shuttered each window. So while the windows were opened, the courthouse still remained cool. The ceilings are also high, which further helped make the courthouse temperature bearable. But having windows opened caused a bit of an aviary problem. Oftentimes, newspapers would be handed out to those attending court to act as a shield from any unwarranted "attacks" from above. One time, the attention of the court kept straying upward as a lone bird flew from gable to gable. The judge asked if someone could do something about it, and BANG! Someone did.
The first floor used to hold offices for county officials. Since the renovation was completed in 2000, these rooms now contain historical artifacts. Gibson's portrait hangs above one of his fireplaces, and the various tools used to make the courthouse are displayed. The wooden floor is refinished to a shine, and the walls look clean and new.
Placed in the center of the courthouse is an 1885 coin, commemorating the year the courthouse was finished. Before the renovation, there were no inside facilities. Since folks prefer the comforts of porcelain toilets and air conditioning over a wooden, splintery outhouse, two restrooms were built inside. As a result, this courthouse is the only USA courthouse that has fireplaces in the restrooms (until I hear otherwise).