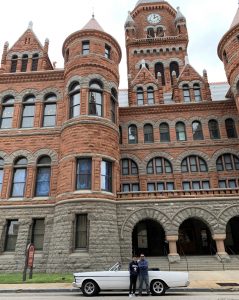 This was our first Courthouse in Texas to visit. That means we are at .4% of our goal with 99.6% left to go. That is two generations of MossoM in front of the Galaxie.

Dedicated to inspire and educate visitors about the rich and varied cultural, economic, political and social history of the Dallas County Area, the Old Red Museum of Dallas County History & Culture serves as a symbol of Dallas heritage. Built in 1892, the beautifully restored Old Red Courthouse contains some of Dallas County's most fascinating historical artifacts. There is a special exhibit gallery located on the first floor, while the second floor of Old Red is filled with exhibits, interactive touch screen computers, an educational learning center and four mini theatres.

The Old Red Museum is located at a crossroads of activity in downtown Dallas – adjacent to the JFK Memorial and Dealey Plaza, a National Historic Landmark District, across the street from a replica of Dallas founder John Neely Bryan's cabin and just a block from The Sixth Floor Museum and the historic West End of Dallas. The space is stimulating for any kind of visitor, including students, local Dallasites or anyone looking to learn more about the history of Dallas County. There is always something new to discover!