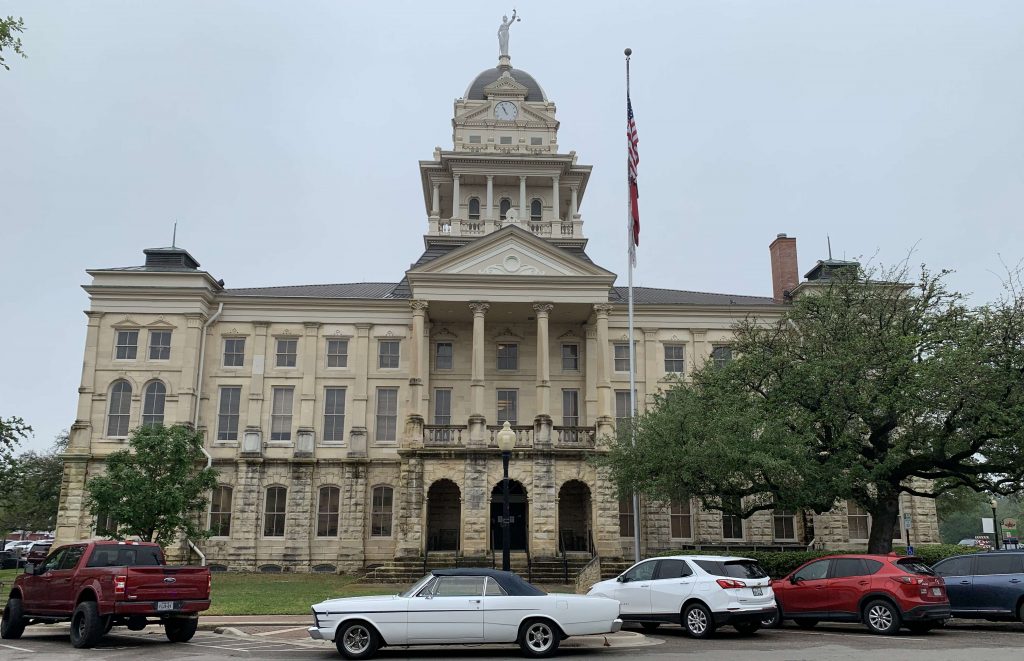 This was our eighty-third Courthouse in Texas to visit. That means we are at 32.7% of our goal with 67.3% left to go.
Three Bell County courthouses have stood on this site–part of the 120 acres given by Matilda F. Connell Allen for the location of the county seat. Prior to erection of a courthouse, early official business of the county (created and organized, 1850) was handled in blacksmith shop of John Danley, the first chief justice. His anvil (in one of the three original buildings in Belton) was the council table.
First courthouse was a one-story (16′ x 18′) frame building erected by contractor Thomas T. Havens in 1851, at cost of $199, financed by sale of city lots.
On April 1, 1858, the commissioners contracted for a two-story (50′ x 60′) native limestone building with intersecting main halls, fireplaces on each floor, double doors and other fine details. Cost ($13,625) was so resented that none of the commissioners were re-elected. Simeon Bramlet was the contractor. This building was in service from Dec. 1, 1859, until 1884.
Cornerstone for third courthouse was laid on June 24, 1884; structure was completed by May 30, 1885. Ben D. Lee contracted to build it for $64.965. It has been improved at later dates. The county clerk's office was fireproofed in 1898. In 1950, there was extensive remodeling and modernizing.