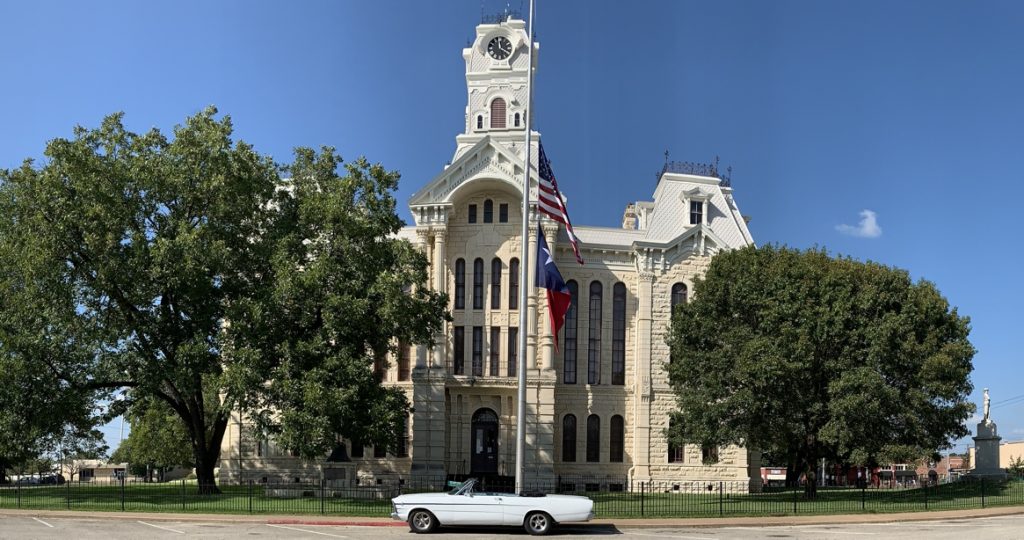 This was our seventeenth Courthouse in Texas to visit. That means we are at 6.7% of our goal with 93.3% left to go.
In 1852 Doctor Josephus Murray Steiner and Elijah Sterling Clack Robinson devised a plan to stimulate land speculation by creating a new county. This new county would be created by subdividing Navarro County. As a result of some help from Governor Bell, a special session of the Texas Legislature was called and a bill to divide Navarro County was signed into law on February 7, 1853. Hill County was named for Dr. George Washington Hill who had served as Secretary of War for President Sam Houston, and had been elected to the state legislature from Navarro County in 1851.
During a special session of the Hill County Commissioners Court on August 23, 1853 a parcel of land near the center of the county was donated to form the county seat. The county seat was originally called Hillsborough but the town's name was changed to Hillsboro in 1854 when the Post Office declared names ending in "borough" should be changed to "boro".
In 1881 the railroads arrived in Hillsboro and along with them came jobs and prosperity. As a result of the railroads, county population grew after 1881 and well into the early decades of the Twentieth Century. Because of the available rail transportation and jobs, German and other European immigrants came to the county to settle. Cotton also contributed to the prosperity of Hill County, but after the 1930's Cotton production declined probably because of the Depression, and the advent of synthetic fabrics.
As a result of the exit of the railroads from the area in the 1930's followed by the demise of agriculture and then manufacturing, population declined in the county until the 1970's. Today agriculture, manufacturing, and retail operations all contribute to the prosperity of Hill County. Hillsboro's location at the convergence/split of Interstate Highway 35 East and West provides plenty of traffic for the Prime Outlet Mall and many other local retail establishments.
In 1981 Hillsboro was one of the first Texas towns selected by The Texas Historical Commission for the Main Street Program. Hillsboro's special status as a Main Street Community makes it eligible for grant money and other planning and assessment services through the THC. The Texas Main Street Program's purpose is to encourage economic development through historic preservation and renovation of buildings and property. The Hillsboro Main Street Program's mission is to create, restore, and inspire the quality growth of downtown Hillsboro.