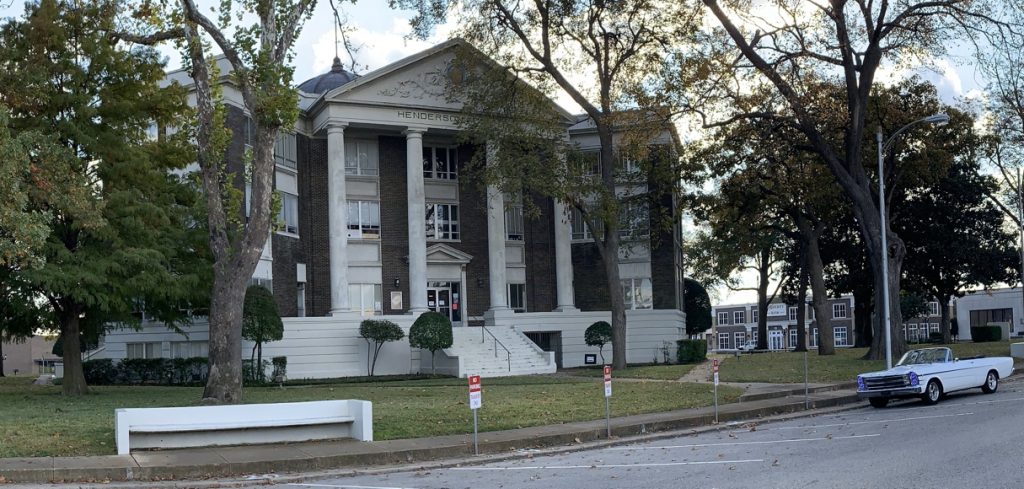 This was our forty-third Courthouse in Texas to visit. That means we are at 16.9% of our goal with 83.1% left to go.

The Texas Legislature created Henderson County in 1846. For the next few years, county commissioners met at various locations, including private homes and the communities of Buffalo and Centerville. Samuel Huffer later determined the center of the county was on the Thomas Parmer survey, and Matthew Cartwright secured 160 acres for the new courthouse. In 1850, the county seat moved to Athens, which was incorporated in 1856.

County commissioners hired John Loop to construct a log courthouse. It served as the court building for 11 years. In 1860, William Warenskjold began construction on a two-story frame courthouse, which burned in 1885, leaving only the district and county clerk buildings standing. C.H. Hawn & Co. constructed the next courthouse, which was used until 1913. That June, with a design by L.L. Thurmon & Company of Dallas, the commissioners court approved the bid of L.R. Wright & Company to build a new courthouse on the square.
Accepted by the court in January 1914, the Henderson County Courthouse exhibits a Classical Revival design. The building is comprised of three floors above a basement and features a central dome and four three-bay pedimented entries with Tuscan columns. The cross-axial plan is formed from a central block with single bays projecting from each corner. Original detailing includes marble stairways and wainscoting on the interior.
Since becoming the county's public center, the courthouse has been the location of the "Old Fiddlers" contest and other events. Today, memorials and tributes to Henderson County veterans, leaders, residents, and history are located on the square.