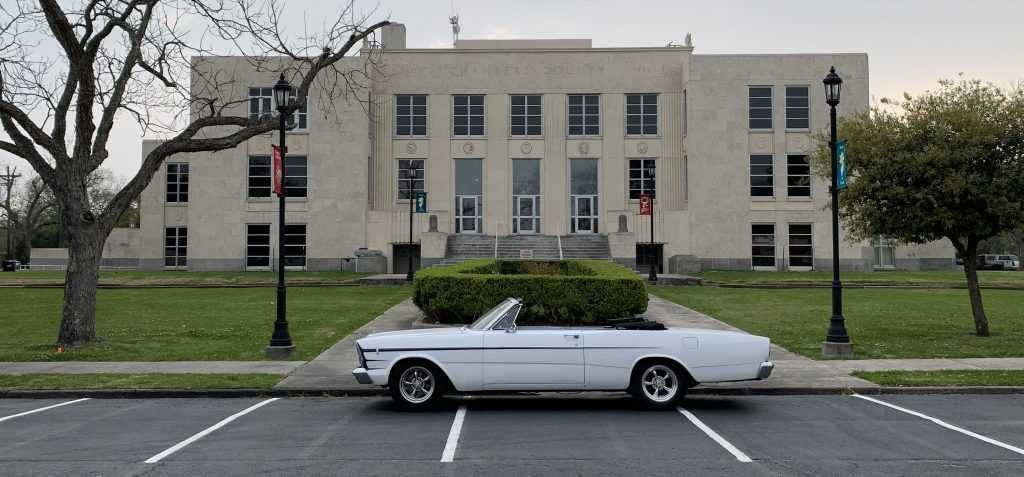 This was our seventy-fifth Courthouse in Texas to visit. That means we are at 29.5% of our goal with 70.5% left to go.
Although Anglo settlement of this area started decades before, Chambers County wasn't officially organized until 1858, cut from Liberty and Jefferson counties. The county's first courthouse was built in the first county seat of Wallisville in 1858, but it was destroyed by an arsonist in December of 1875, taking with it most of the county records. The 1869 school house, restored and still standing in the Wallisville Heritage Park, served as the courthouse until the county's second courthouse was built in 1886.
The 1886 courthouse was constructed of brick and stone in the Renaissance Revival style by contractor August Baumbach. A brick jail was built nearby in 1894 with a tower for the gallows that was never used. The design of the jail was almost exactly the same as the historic 1892 Crockett County jail still standing in Ozona, TX. A dispute over roaming livestock in Wallisville, known as the "County Seat Hog War," led to an election that relocated the county seat to Anahuac in 1908. A 1915 hurricane almost destroyed Wallisville and severely damaged the courthouse and jail buildings. The 1894 jail was torn down and the 1886 courthouse was finally demolished in 1948.
The county's third courthouse was completed in the new county seat of Anahuac in 1912. The Classical Revival style brick building was designed by F.W. Steinmar and served the county until it burned down on April 28, 1935.
The fourth and current courthouse was built in 1936 with shell limestone in an Art-Moderne style and designed by Houston architect Corneil G. Curtis, who also designed the 1931 Liberty County courthouse. Partially funded by the WPA, the $276,000 project included a jail on the top floor that was used until 1983. The 1936 courthouse has many examples of Art-Deco ornamentation and retains most of its original exterior and interior appearance.