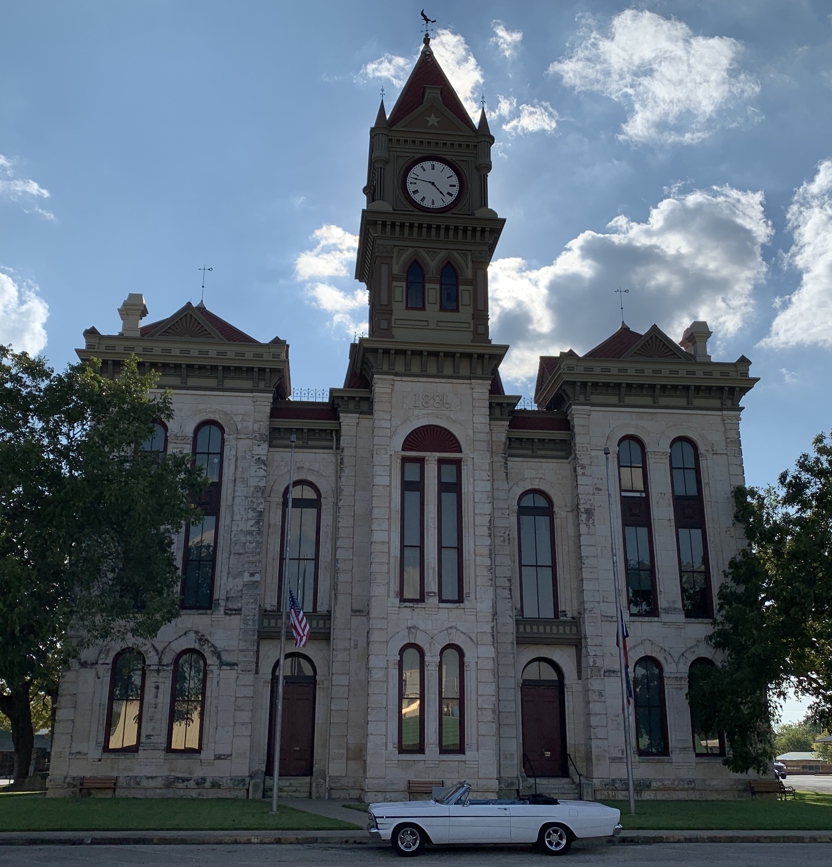 This was our eighteenth Courthouse in Texas to visit. That means we are at 7.1% of our goal with 92.9% left to go.
Bosque County is not named for a "who;" it's named for a "what." In 1721, Spanish explorer the Marques de San Miguel de Aguayo was ambling his way to an East Texas mission from San Antonio de Bexar. Being an explorer, he wandered north off the Old San Antonio Road and, well, went exploring.
De Aguayo camped near the Brazos River and another tributary and looked around. He saw lots of trees. Since explorers are known for naming things, he hailed the tributary "Bosque," which is Spanish for "trees." When it came time to name the county, folks looked at the Bosque River and figured Bosque County was as good as any other name. So it stuck.
About 1830, George Erath was hired to survey the land for colonization. Although he did not have the title of explorer, he liked naming things, too. While he was surveying near the ninety-eighth meridian, he named two tributaries the Meridian Creek and the Meridian Knobs. The name "Meridian" stuck, too, because when it came time to name the county seat, folks decided to call it just that.
Bosque County is known for its Norwegian influence. After settling kinsmen in seven other states, Norwegian Cleng Peerson set his eyes on Texas. Once here, he urged fellow Norwegians in East Texas to go west, but not too far. In 1854, he and other Norwegians took advantage of the land give-away from the state and settled Clifton, Norse, and Cranfills Gap.
The year 1854 was also when Bosque County was established. By that fall, a one-room log courthouse was erected with Lowry Scrutchfield elected as county judge. Scrutchfield, one of the original settlers in the county, had assisted Erath in laying out the town of Waco. Scrutchfield was county judge for four years, although much of his time was spent warding off Indian attacks. The Comanches were keeping the settlers busy by stealing whatever they could get their hands on, from livestock to scalps.
A second courthouse was erected in 1860 but was destroyed by fire in 1871. Then for about five years, court was held off and on in a tent until a two-storied stone courthouse was erected in 1875. That seat of justice lasted for a decade. Then, in 1886, a fight broke out over the possibility of building a new courthouse.
It was the Courthouse Party vs. the Anti-Courthouse Party, verbally duking it out. The New Courthouse advocates sited the deteriorating building and insufficient space. The Old Courthouse defenders spat that a new courthouse, costing 60K, would break the county and raise taxes. These rumblings culminated the day the courthouse was to be demolished. Commissioner Tom Poole feared for his life as he rode into town that day, having heard he'd be ambushed for voting for the new courthouse. He found an angry mob gathered around the Courthouse Square, armed with pistols and fury. Yet a shot was not fired, and the courthouse was demolished.
Anti-Courthouse Party commissioners A. J. Walton and E. J. W. Odgen refused to allow their names to be placed on the cornerstone of the building, so only the names of Courthouse Party County Judge R. G. Childress and commissioners Poole and John Goodman appear there. These three men were subsequently voted out of office in the election of 1886 before the courthouse was completed.
The present Bosque County courthouse, completed the end of 1886, is a Renaissance Revival courthouse designed originally by J. J. Cane of Ft. Worth. However, when he designed it, he had a Gothic tower with small turrets on the corners above the east entrance.
The building is made from limestone quarried nearby. Roman arches and heavy rusticated pilasters reflect the Renaissance Revival style. Stone-carved fancy rosettes adorn the pilasters. The hipped roofs over the corner pavilions, connected with mansard roofs, were originally covered with metallic shingles in a diamond pattern.
The Gothic tower and these roofs were replaced with walls in 1935, because of the Federal Emergency Administration of Public Works (WPA). That renovation also resulted in an addition to the west side of the courthouse.